The most important third of a person's life is the one spent sleeping. The fact is that not enough attention is dedicated to this because we do not see at is important. However, your time spent awake depends on the quality of your sleep.
Other than the fact that neck pain is annoying and that it affects your mood from the moment you open your eyes, it a constant source of stress that will affect your physical and mental health. This kind of pain isn't something you should accept because you're used to it – finding the best pillow for neck pain that's in accordance with your needs will solve this problem.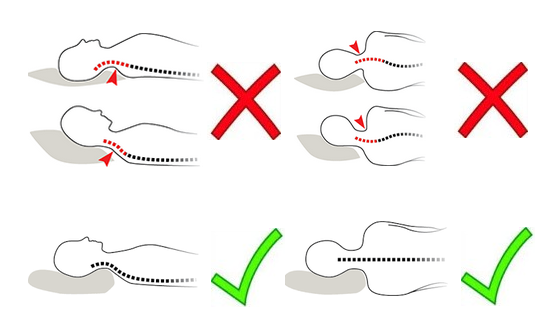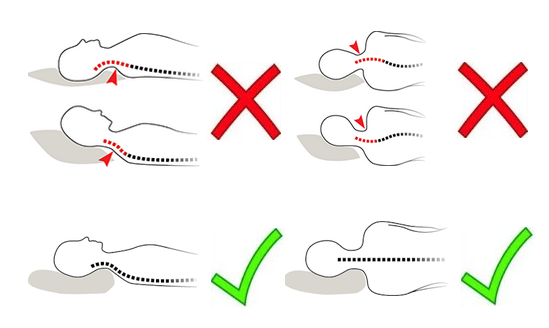 Our Top Best Pillows for Neck Pain Comparison Chart
What Causes Neck Pain?
Before we get onto discovering what is the best pillow support for neck pain, you should know that the pillow itself may be the main cause of the problem, but not the only one. Therefore, if you plan on improving your sleeping habits because you forgot what it's like to wake up cheerful in the morning, you need to include other factors as well.
Leading an unhealthy lifestyle that includes smoking or caffeine in unhealthy amounts is also a factor. Getting rid of these habits needs some getting used to, so try down cutting down damaging substance to a minimum. Along with this, you need to establish a constant sleeping pattern, so that you fall asleep and wake up at the same hour.
In addition, everyone has their favorite sleeping position and this is one habit that's seriously challenging to change. You should take into consideration that, if you're a tummy sleeper, you're not at all helping your neck because it needs to be unnaturally twisted throughout your night.
Therefore, finding the right pillow for neck pain will most definitely help you relieve from discomfort, but it would probably be best for you to combine it with changing other habits as well, so that your sleep goes from a hellish experience to a feeling that probably resembles sleeping on the clouds.
What Are the Best Pillows for Neck Problems?
If you never before had an opportunity to enter the world of pillows, chances are you'll be overwhelmed with the number of shapes, types, structures, and materials. But, every feature of a pillow needs to be included into your final decision. Having a choice this wide is simultaneously a gift and a curse, but it's nothing you won't be able to handle after a bit of research. So, let's find out about the crème de la crème of pillows so that you can find the best pillow for neck pain.
Shredded Memory Foam from Xtreme Comforts
This pillow is known to be one of the best pillows for neck pain support and the reason for that is very logical – it's gentle filling is shredded memory foam. So, this pillow will provide very powerful support to your neck and back by re-shaping itself every time your head lands on it.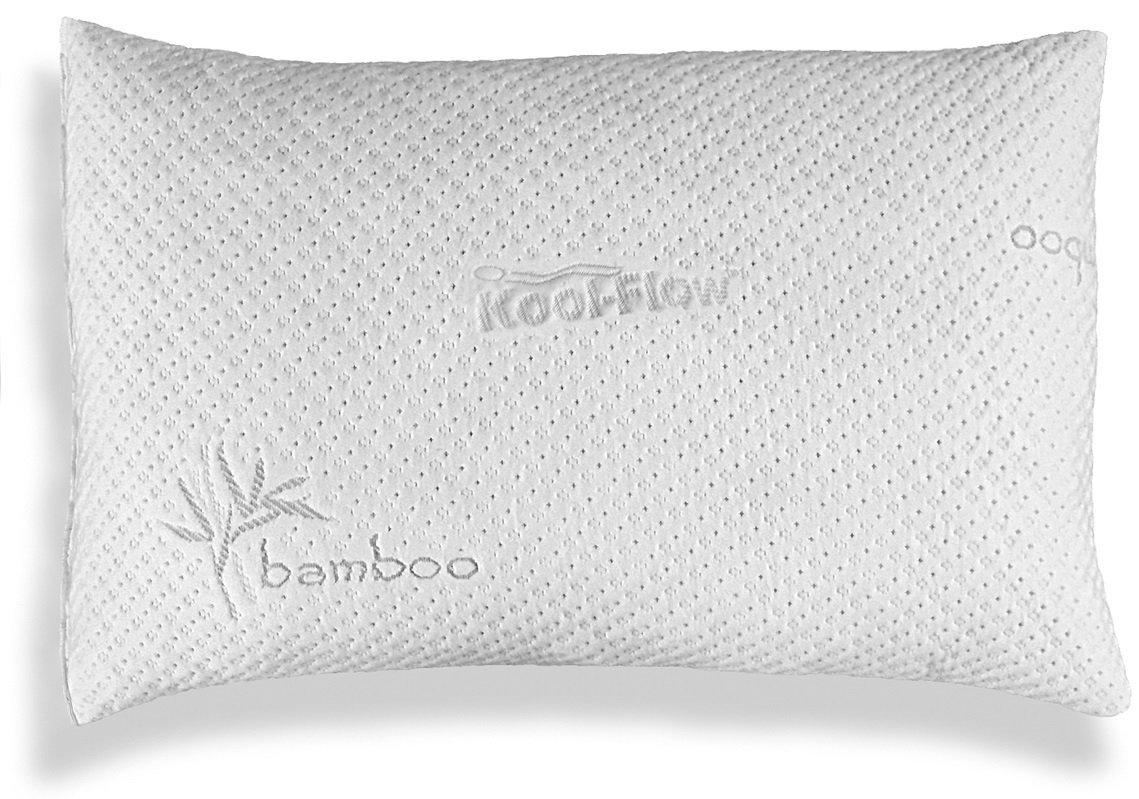 The very convenient thing about this pillow is that it's machine washable, so you won't have to tend to it with special care – just act according to the instructions. It's casing is made out of bamboo – forty-three percent of it to be exact, which will also enable you to enjoy a good night's rest.
This product that comes from Xtreme Comforts has many very happy users who don't hesitate from sharing their satisfaction online. The other great thing is that you will get a full refund if you're not among those pleased users.
Pros
Shredded memory foam
43% of bamboo in casing
Cooling effect
Full money back guarantee
Cons
The only type of negative reviews this product has received, of which there are very few, is that it could be a bit firmer.
Unless you already confidently know that firm pillows are not according to your taste, and that you prefer fluffy ones, this one is an excellent choice.
Cervical Orthopedic Pillow from Custom Sleeping
The Custom Sleeping team has made a very interesting pillow; it's adjustable, what makes this one of the best pillows to reduce neck pain.
There is an opening at the middle of the bottom layer. After you open the zipper, you'll be able to pull out a piece in order to make your neck as comfortable as your head. In addition, this clever little solution also enables a user to adjust the density of the pillow by using the same opening.
Considering the fact that it's ranked seriously high on the best pillow for bad neck list, you should definitely take this pillow into consideration, especially because you can customize it each night and fashion a new pillow if you find it necessary. It's a great solution for everyone who sleeps on their stomach.
The insides of this pillow consist out of shredded gel memory foam while it's casing is made out of pure cotton, which together make this pillow washable in your machine, hypoallergenic, and completely resistant to dust and mite. In addition, this snuggly product also comes with a five-year long guarantee, so you will be able to replace it in a case of a problem.
Pros
Shredded gel memory foam
Pure cotton case
Dust Resistance
Hypoallergenic
Five-year long guarantee
Cons
Some users found this pillow to be give uneven support because of its adjustment options.
Unless you're confident that you'd have problems with a pillow that's adaptable because you perhaps won't be able to adjust it the same way each night, this is a product that will undoubtedly make you feel comfortable and it is a very good pillow for neck pain.
Waterbase from Mediflow
Another interesting solution, which makes this product rank really high on the best pillow for sore neck and shoulders list comes from Mediflow and, as the its name says, it has a water filling. Many satisfied users claim that this pillow was of enormous help with their neck pain and stiffness in the shoulder area, so equipping your bed with it will undoubtedly make you a part of this group.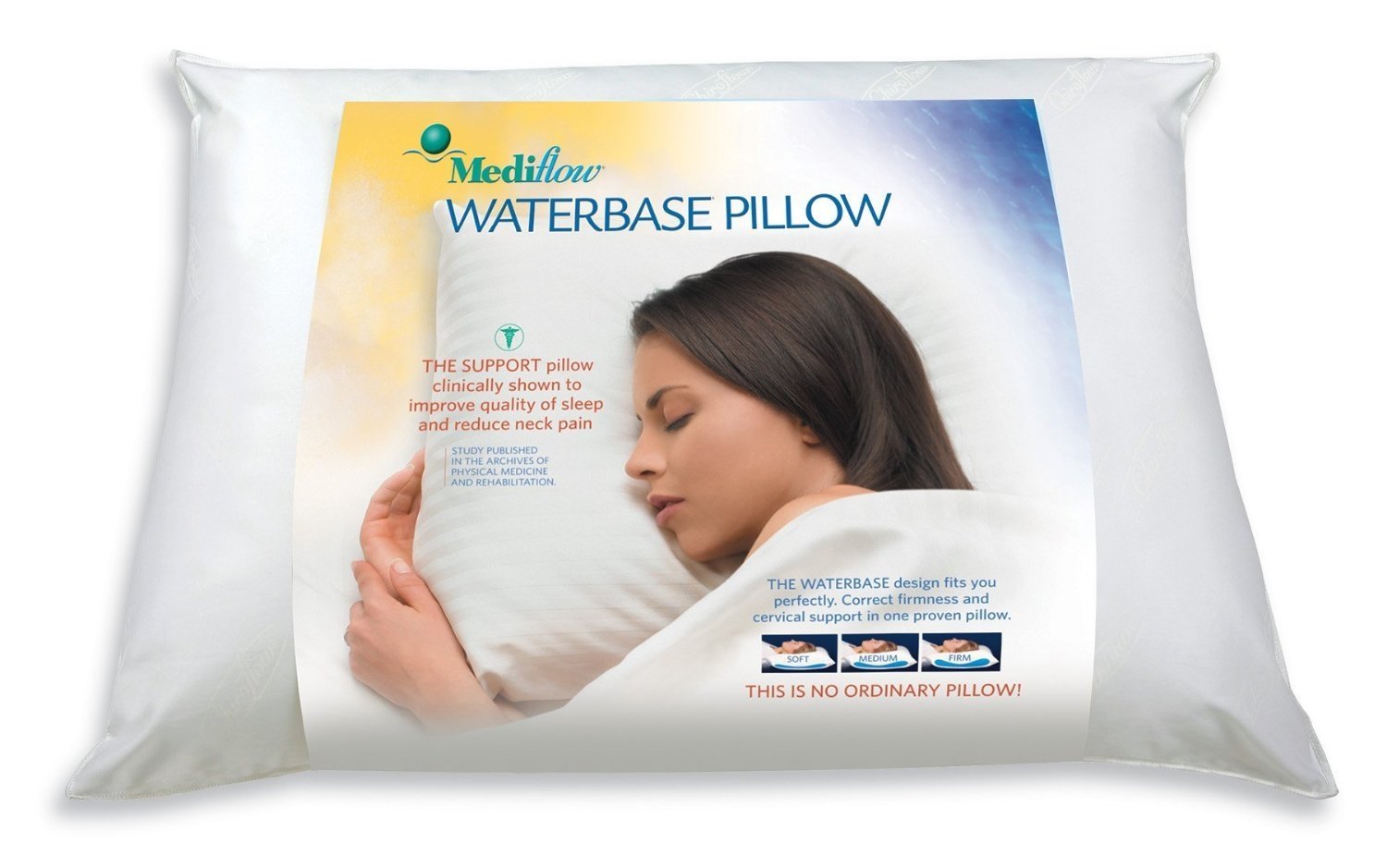 Other than its watery filling, the Waterbase pillow also has a layer of hypoallergenic fiber, so you don't have to think twice about whether it will cause an unpleasant reaction. Obviously, this product is a very simple but quite efficient solution which makes it one of the best pillows for neck pain.
Pros
Water filling
Hypoallergenic fiber
Cons
The only thing you'll be able to encounter as a form of a bad review when it comes to this pillow is its weight – it's heavier than most of them are.
Unless you're in need of a comfortable travel pillow which is easy to carry around, this one is a very good solution for your sleeping problems.
Shredded Memory Foam from Coop Home Goods
Although sleeping on your back is considered to be one of the healthier sleeping positions because it provides constant support to your spine, neck, and head, it can be problematic when you're not set with the right pillow. Well, this product that comes from Coop Home Goods had exactly back-sleepers in mind while fashioning it.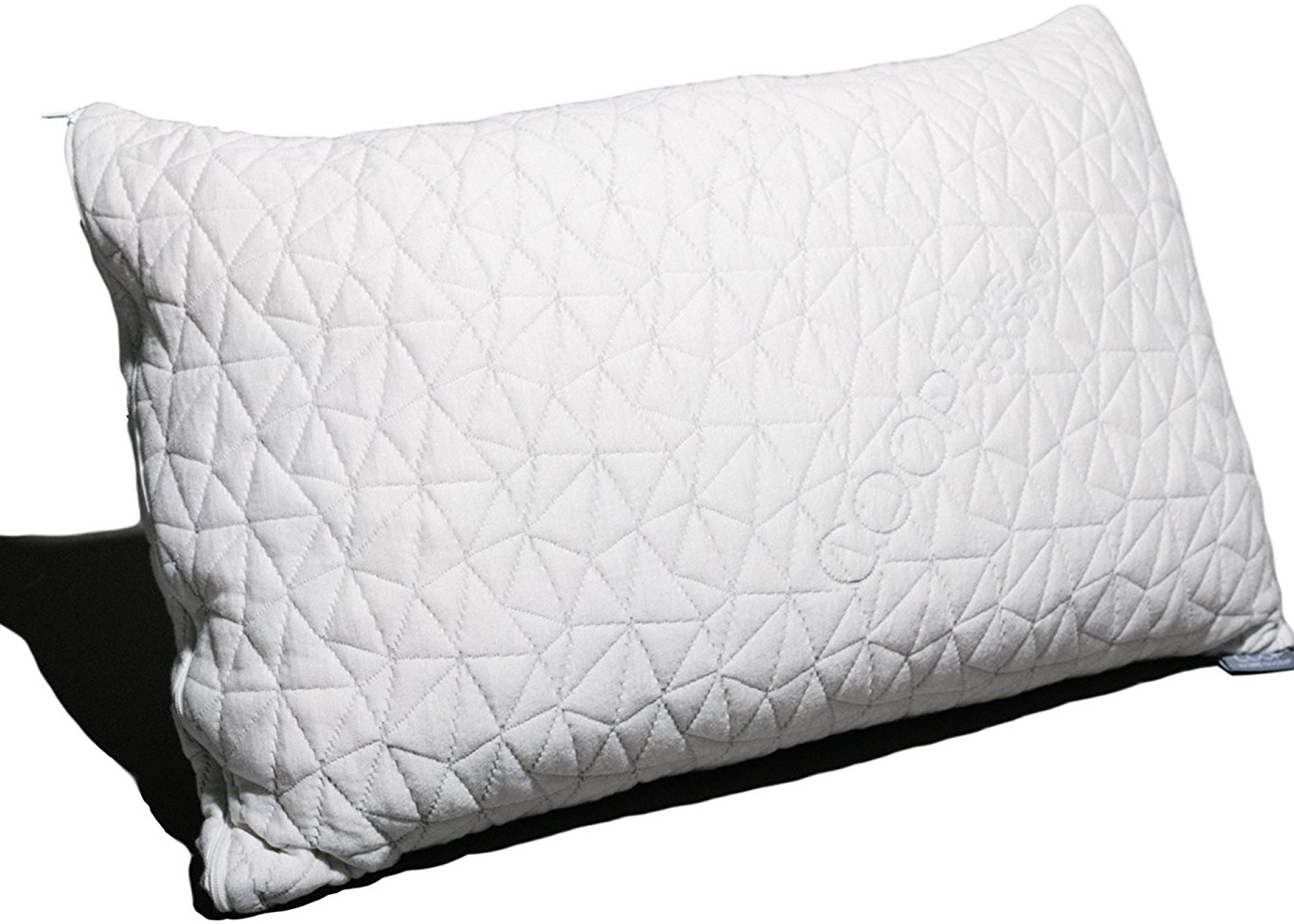 The fact that it's made according to US standards implies that this pillow doesn't consist out of any heavy metals. It's also hypoallergenic and resistant to mite and dust. Because it's filled with shredded memory foam, this pillow will adopt to your position night after night and, if you get it, you gain a powerful ally in the best pillow for neck and shoulder pain.
Pros
Shredded memory foam
Hypoallergenic properties
Resistance to dust and mite
Fashioned in accordance with US standards
Specially made for back-sleepers
Cons
If you have a habit of sleeping on your stomach or in a fetus-like position, this may not be the right pillow for you.
Instead of trying to find a new comfortable position and fight neck pain by introducing changes, you can simply get this pillow and it will solve your problems.
Therapeutica Sleeping Pillow from Core Products
If you're searching for a fully customizable pillow that will adopt fully to you, you'll be very interested in this creation that comes from Core Products. Although the form of it will be the same, you can order this pillow by choosing from different sizes.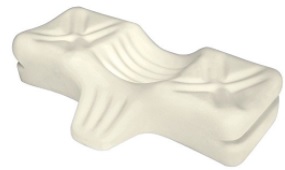 So, other than getting a pillow that is in accordance with your size and shape, you'll also get a product made entirely of memory foam. A product that is highly adjustable most certainly offers a high level of comfort to its users.
Pros
Memory foam
Diversity in sizes
Cons
Some users of this therapeutic sleeping pillow claim that it's a bit firmer than they'd like it to be.
Therefore, by picking out the right size which is in accordance with the shape of your head, shoulders and neck, you will be able to get a very comfortable pillow unless you have a general problem with firmness.
My Pillow Premium Series
If there were a popularity contest, this pillow would definitely have a great chance of winning. Although this has something to do with Premium Series' advertising efforts, My Pillow is still one of the most purchased and considered to be among the best pillows for neck and back support.
Because of its interlocking feeling, My Pillow can adjust to your shape, and not only that – you can choose four different versions and select one that's suitable to your size. You should also know that you can wash it and dry it in your machine, so although very popular, this product isn't high-maintenance.
Pros
Adjustable to shape and size
Machine washable and dryable
Cons
MyPillow is one of the most expensive items on this list, so you need to be aware of the fact that there are users who claim this product is a life-saver while other don't understand what all the fuss is about because they would not describe it as comfortable.
Well the fact that someone found My Pillow to be uncomfortable doesn't mean that you will. So, it comes down to the fact that you'll never know if you don't try.
Tri-Core Standard from Core Products
Because of its highly unusual design created by Core Products, the Tri-Core Standard Pillow is suitable for any kind of sleeper, so whether you sleep on your back, your stomach or on the sides, it should provide you with stable support and help with pain relief, which should makes it a tough competitor in the best pillow to sleep on for neck pain fight.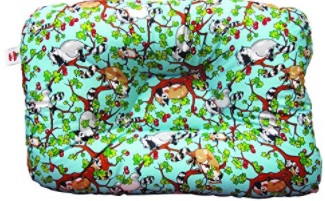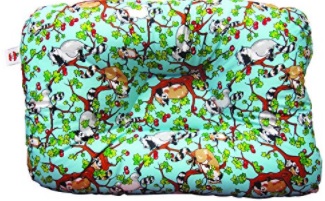 The reason why it will satisfy any type of sleeper is its center which is on the lower level when compared with the side of this pillow. You should also know that it's made out of memory foam which is considered to be one of the best materials for products which have a purpose of getting rid of neck stiffness.
Pros
Memory foam
Unique design
Cons
The only negative type of review about this pillow is that it requires an adjustment period.
If you're patient enough and you can hold out a couple of weeks until your neck pain finally disappears, this interestingly designed pillow is another great option for you.
Swedish Neck Pillow from Tempur-Pedic
For you to have a good night's sleep, it is necessary for your nose to be in line with your spine, no matter what your favorite sleeping position is. The Swedish Neck Pillow that comes from Tempur-Pedic is very elegantly designed so it has a soft curve which will help you achieve a healthy sleeping position.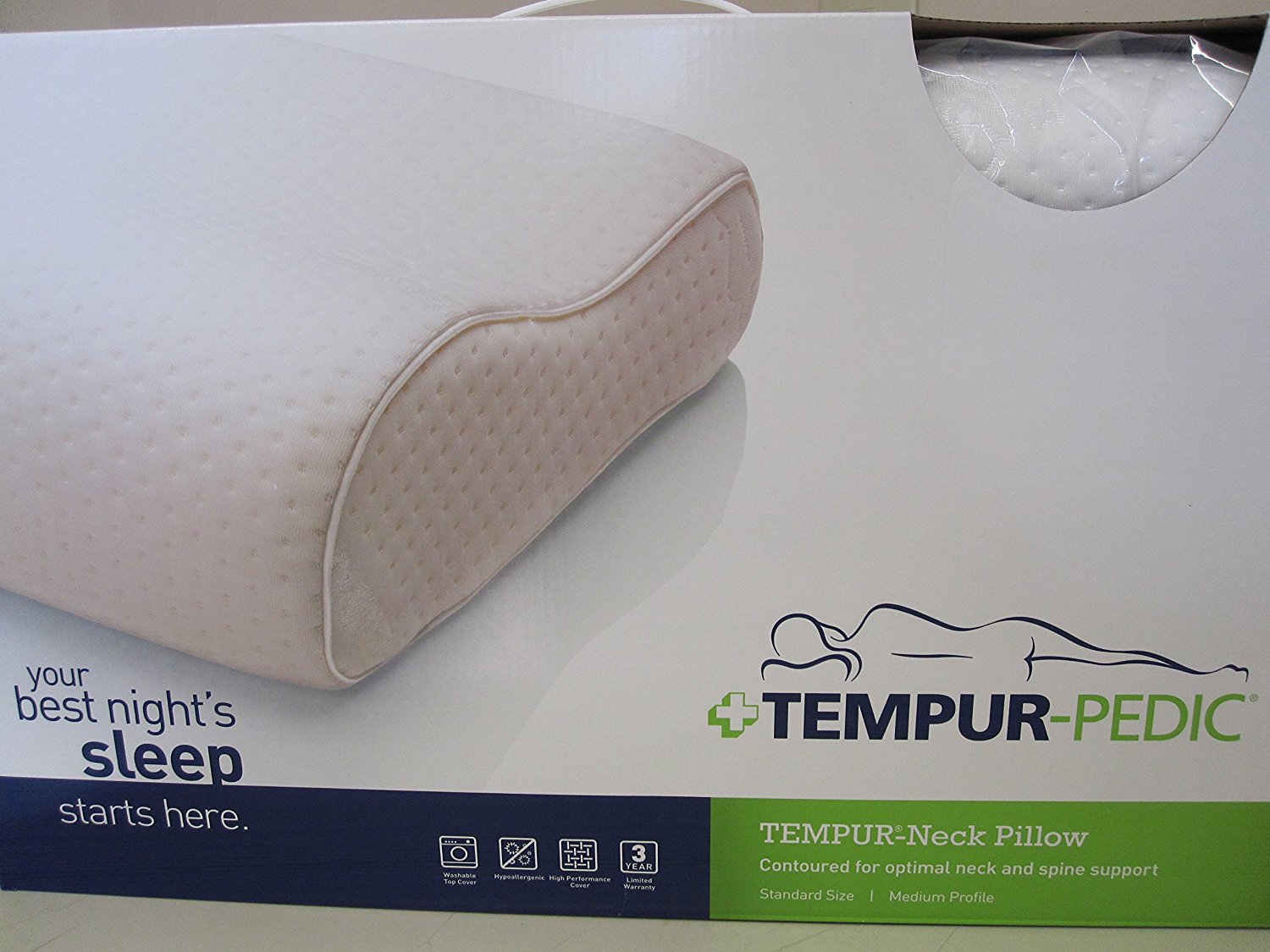 It consists out of viscoelastic memory cells which means that this pillow has an in-built ventilation system so you won't have to be worried about sweaty nights which result in continuous turning and tossing. Also, the casing of the Swedish Neck Pillow is made out of cotton and polyester, so it's machine washable.
One of the advantages of this pillow is that it comes in five different sizes, so you can select one that's suitable to your needs. Besides the general size, it's width is also adjustable; selecting one according to your wishes, along with the size, will place your neck in a very comfortable position.
Pros
Viscoelastic memory cells
Cooling effect
Machine washable casing
Curved design
Adjustable size and width
Cons
Some of the unsatisfied users say that the Swedish Neck Pillow loses shape quickly, so in this case, you will have to replace it sooner than you planned.
This elegant design with a smooth curve resembles a real cloud, so if the negative comments are true, it also changes shape like one.
Memory Foam from Smarter Rest
Similar to the previous model, this pillow as well is nicely curved, only this design is a subtler one than the previous. The angle of the curve is softer, which might be more comfortable, so if this description sounds tempting, you might have found the best pillow to reduce neck pain for you.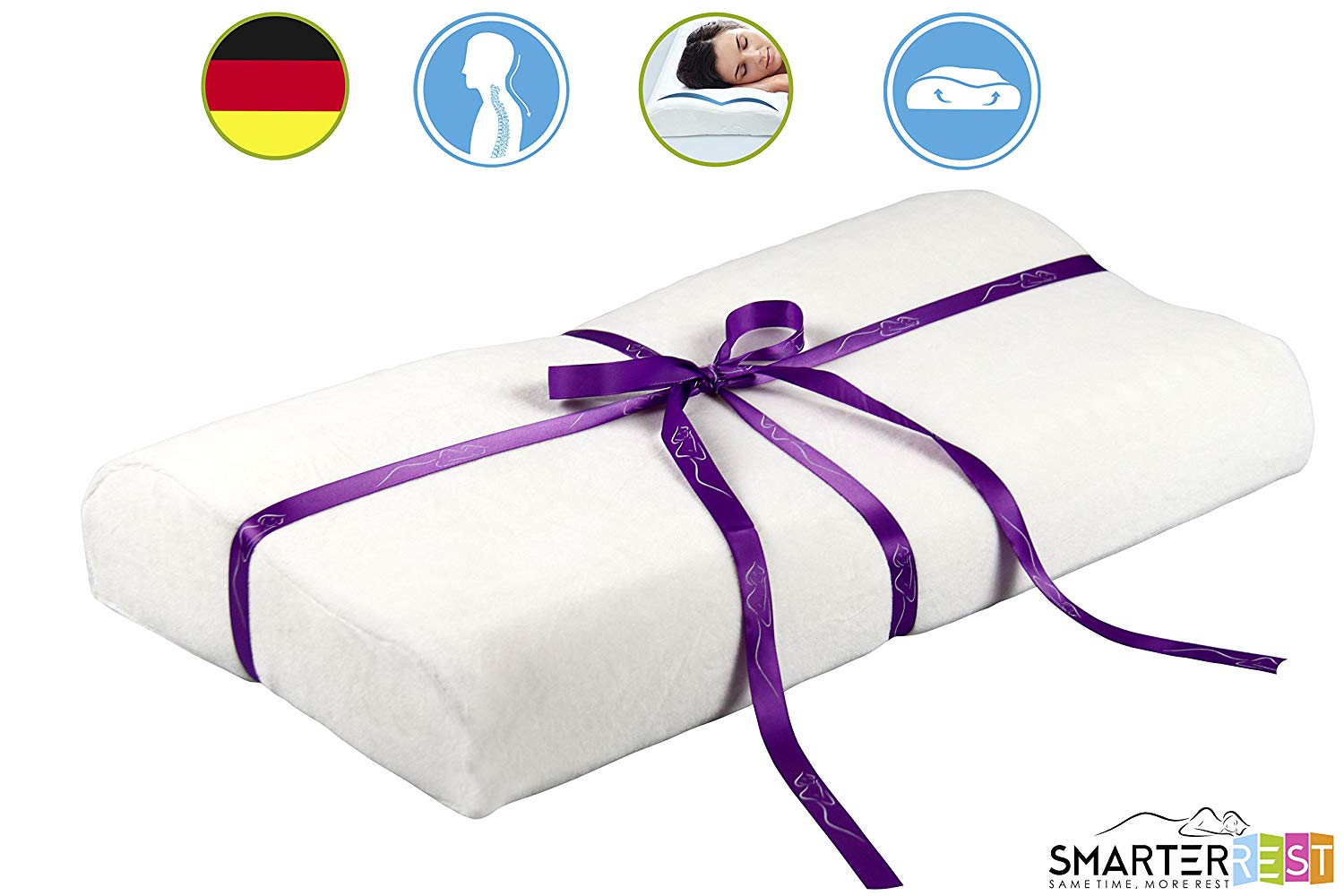 Another one in the line of pillows which are made out of memory foam that comes from Smarter Rest; this material seems to be the most popular one and for a good reason. A quality pillow like this should provide its users with constant support that doesn't decrease during the night which makes it highly ranked on the best pillow for bad neck pain list.
Pros
Memory foam
Washable case
Subtly curved design
Cons
Unsatisfied users of this product claim that it's too small for their needs.
Therefore, if you're in search of a nap pillow which is still categorized like the best pillow for neck pain, this would be an excellent choice for you.
Contour Memory Foam from Sleep Innovations
If you're looking for the best pillow for neck problems that is in balance when it comes to quality and price, Contour Memory Foam that comes from Sleep Innovations might be the right pillow for neck pain for you. Although its price isn't high, it still comes with a warranty that's five years long, which is definitely a sign of reassurance.
Like the previous two, this pillow too has a nice curve which is – as we established – one of the proven design features that can help with pain relief. In addition, the pillow itself is made out of memory foam – again, a quality feature – while the case is pure cotton and thus machine washable.
Pros
Memory foam filling
Curved design
Case made out of pure cotton
Cons
Not everyone is satisfied with this product; some claim that it's too firm while other say that it doesn't help with their neck pain whatsoever.
Although some are unsatisfied, the majority of users of this pillow have only compliments to give. So, if a firm sleeping surface isn't a problem for you, you should give it a go.
Cervical Linear Traction from Arc4Life
Boldly designed, the Cervical Linear Traction pillow that's been fashioned by Arc4Life, will provide your neck and your head with a great dose of comfort. Its center and the part meant to support the neck are depressed, so that you can cozily place yourself there and enjoy the night instead of refusing to sleep because you're used to torture.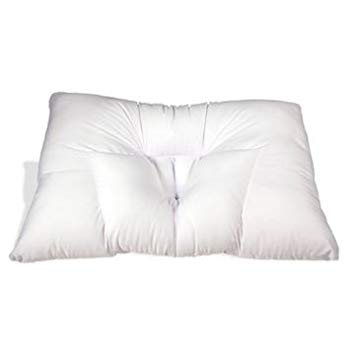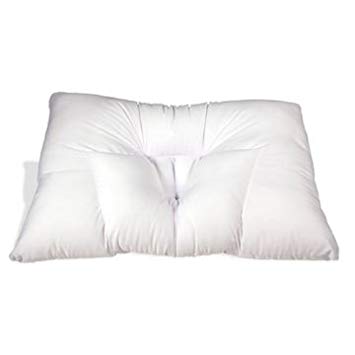 Its shape is this unusual because it's meant to increase blood circulation by improving your sleeping posture and relaxing your tense muscles. The V-shaped depression will align your neck with your spine and thus remove pain from your life.
Pros
Bold design
Maximal comfort
Powerful support
Cons
There are not too many complaints about this pillow except for the price – it's one of the most expensive ones we mentioned.
Trying something new and experimental might be a good option for you, especially if you tried everything else so far. According to its users, the only downside is the price, but the pillow will pay itself off by providing you with comfortable support throughout the night.
Bamboo Shredded Memory Foam Pillow from Cozy Cloud
An interesting fact about this pillow from Cozy Cloud is that it was designed by a chiropractor – and who knows better what the human body needs than an expert? Another very pleasing thing about it is that it comes with a ten-year long warranty so there's obviously a guarantee of quality.
Its filling is made out of shredded memory foam while its casing is bamboo and polyester. These two materials combined are a very good friends to everyone who has troubles sleeping during summer because one of this pillow's properties is cooling. According to its reviews, this is probably the best pillow support for neck pain.
Pros
Designed by a chiropractor
Ten-year long warranty
Shredded memory foam
Cooling effect
Cons
Although there are a negligible number of negative comments, you should perhaps pay attention to its firmness – it might be a bit firmer for you if you prefer fluffiness in your pillows.
Well, other than it being perhaps too firm for your liking, this just might be one of the best pillows for neck pain on the market.
Conclusion
Each of the brands we mentioned have a sole purpose of creating a product that will indulge their customers. Therefore, there is no doubt that a pillow from this list is comfortable. But, in order to find the right one for you, it is necessary that you make a list of your own needs and sleeping habits and compare that to the descriptions listed above.
By doing this, you will maximally increase the chances of finding your perfect match and significantly improving the quality of your sleep and life simultaneously.